From time to time, we have puppies available to good new homes. We choose the future parents of each new litter with real attention and very carefully to ensure that the new generation would be healthy and strong and will responds to our clients needs. Through the whole pregnancy of each female dog we make ultrasound to monitor the babies condition. We make blood tests to check mother condition, too. Weekly our vet visists the kennel to observe the babies development and how they grown.
We would like to find the best dog for you and the best owner for our dogs. Please review the process for obtaining a pup from EVRAZIA kennel on our Client Questionnaire page.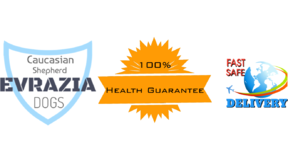 EVRAZIA kennel FCI decided to share with clients and friends a part of the most significant and unforgetable litters that had in the past. It was hard to choose because we love all of our dogs and their marvellous puppies and each puppy is valuable for the kennel. We've been thinking for a long time and here is some of our matings that took a special place in the kennel history and our hearts.
.