Who we are?
"EVRAZIA" is a Bulgarian kennel certified by FCI (Fédération Cynologique Internationale) and a member of BRFK (БРФК - Българска Републиканска Федерация по Кинология ). In 2010 me and my familiy became an official part of Bulgarian Caucasian ovcharka club after almost 15 years of amateur breeding, starting from the bottom, collecting information, doing researches, making many mistakes and learning much about these amazing creatures. Deeply conected to them we dedicated our lifes to breeding only high quality Caucasian Ovcharkas. Our dogs are strong, healthy, agility animals which are appropriate for guard, dog shows, breeding and pets.
They will be your best friends and guards!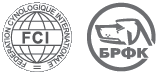 Where we are situated?
We are situated in East EUROPE in wonderful country, named Bulgaria and we have many satisfied clients in whole world including USA, Canada, Egypt, Australia, United Kingdom, Ukraine, Germany, France, Spain, Italy, Romania, Greece and many others.
Reference from our clients are available! We do not use sales agents or brokers, so the customer could communicate directly to us (the breeders).
See some of our clients and friends and their successful dogs!
Correct attitude and respectful dialogue

Help in choosing dog

Fast obtaining procedure

Fast and safe delivery

No unnecessary worries

No brokers and

additional expenses

Professional Advices and Help

100%

Health Guarantee for your dogs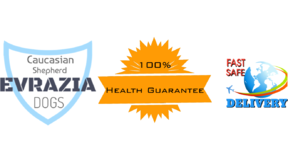 What you would receive?
In exchange of your money you would receive: healthy and strong puppy, FCI pedigree, euro vet passport, current vaccinations, deworming, microchip, transport crate, safe and secure delivery and of course our friendship and professional advices.
The kennel is located on an area of 6,000 square meters of spacious fields with a small forest where our dogs run and play freely. It helps them develop their muscles, joints and instincts and is an excellent basic for the future development in their new homes. They do not lose touch with nature as dogs born and raised in a concrete cells.